The IFS founders – award-winning screen writer and director John Boorman and film producer and financier Kieran Corrigan- decided to launch the school's first filmmaking courses in Dublin, a city of culture and creativity.  The courses start on Monday July 23rd and run for a 10-day period out of the National Film School, at IADT, Dún Laoghaire, Dublin.  
3 Filmmaking Courses
You can choose from 3 different filmmaking courses this summer: 

1. Filmmaking with John Boorman – this 5-day course, led by John and his guests, will teach you essential filmmaking skills. You will learn best practice when it comes to bringing a project from script to screen.

2. The Business of Film with Kieran Corrigan – this 1-day course, led by Kieran and his guests, will teach you how to raise finance for a film project and highlights budgetary issues and challenges that you may face. You will find out about relevant insurance, taxation and legal issues that affect filmmakers and examine sales and distribution opportunities.

3. VFX with DNEG – Academy Award-winners DNEG (Blade Runner 2049) will guide you through this 1-day course in Visual FX. You will have hands-on instruction from a DNEG instructor in the use of a digital stills camera and learn how a VFX shot is created from inception to final composite.
 About Campus

The IFS will be based at the National Film School at IADT, Dún Laoghaire this summer.
The National Film School is an award-winning state-of-the-art building with two film studios, a radio studio and ultra-modern, light-filled classroom spaces. Built in 2014, the glass façade of the building is adorned with images of the history of cinematography and 'looks to represent both the theatrical and mechanistic world of filmmaking' in the words of the architects.

Dún Laoghaire is a major seaside town situated just a 30-minute drive from Dublin city centre. It has a plethora of restaurants, bars and other amenities to choose from. It's very easy to get into Dún Laoghaire from IADT and explore. It also has gyms, pools, coffee shops, cinemas, parks and a new library, DLR Lexicon. Annual festivals currently cover all manner of interests including literature, music and sport, and the Pavilion Theatre hosts plays and concerts all year round. The town has long been associated with major cultural figures, including Samuel Beckett and James Joyce.

IADT campus contains many amenities including a canteen, on-site parking and sports facilities. You can read more about these here.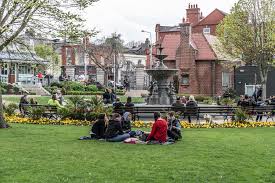 Travel Guide

By Air
If flying into Dublin airport you can hop on the blue Air Coach (route 703 - Dublin Airport to Killiney/Dalkey) and travel straight to Dún Laoghaire or into Dublin city centre. See the bus routes and timetable here.
By Sea
If travelling by ferry you can travel from Holyhead (UK) directly into Dún Laoghaire or into Dublin port from the UK and France.
Public Transport
IADT is located on Kill Avenue near Dún Laoghaire in South County Dublin. It is easily accessible from the city centre either by bus or DART (Dún Laoghaire station).
IADT is situated in the Dún Laoghaire/Deansgrange suburb. You can see the exact location if you click here. The campus is served by Dublin bus routes 46A, 75 and 63 bus routes. For more information on bus routes please see www.dublinbus.ie
IADT is approximately 3km from Dún Laoghaire DART station and so you may require a connecting bus (46A, 75 or 63) to get to IADT's Kill Avenue campus.

Accommodation

Any accommodation on the listed bus routes would be suitable. For information on the areas served by these routes please see www.dublinbus.ie
Airbnb and other booking sites like booking.com are popular way of finding and booking accommodation in Dublin.
Hotels
Nearby hotels include the Talbot Hotel and the Rochestown Lodge Hotel & Spa. There are also many other hotels and B&Bs in the Dún Laoghaire area as well as in Dublin city centre that would be a convenient base.
Further Study
If you want to progress onto further study in film you may like to look at the wide range of third level courses that are currently offered at IADT.
The IFS will also be running further filmmaking courses this autumn in Dublin and is also planning to deliver its programmes further afield in London and Beijing very shortly.
Questions?
Please contact This email address is being protected from spambots. You need JavaScript enabled to view it. for assistance with your travel plans or if you would like any information on our London and Beijing courses. We would be happy to advise you!